Maximize your philanthropic goals
Keep us thriving with your planned gift

Take advantage of numerous tax and financial benefits

Leave a legacy to be remembered by future generations

Kaysers Place Farm in a Charitable Trust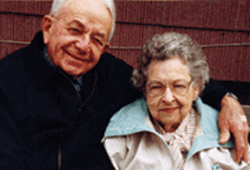 Mr. & Mrs. William Kayser owned and operated a farm in central Illinois for almost 40 years. Bill and Beryl were active in their local church and routinely supported a number of ministries. They became one of the early Cedarville University President's Associates in the late 1970's and have faithfully supported the annual fund each year since that time. They planned to live out their days on the farm and then use the farm asset to create income for their heirs through a testamentary Cedarville University charitable remainder trust.

The Kayser's decided to move from the farm into an assisted living facility. In making the move, they wanted to achieve four goals: continue to honor the Lord with their giving by making a significant gift to Cedarville University, provide for the cost of assisted living, create an income supplement for their heirs, and reduce or eliminate estate taxes.

If they had sold their farm outright and reinvested the sale proceeds net of capital gains taxes, the annual investment income would not have provided adequate assisted living care for the remainder of their lifetime. Instead they placed their farm in a Cedarville University charitable remainder trust, removing the asset from their taxable estate. The farm was sold by the trust, exempt from capital gains tax. The gross proceeds were reinvested and now earn more than enough income to pay for assisted living plus anticipated cost increases. The income tax deduction earned by placing the farm into the charitable remainder trust will offset a portion of the taxable trust income for up to six years.

When Mr. & Mrs. Kayser have both gone to heaven, a portion of the trust income will be given to their heirs for a period of 20 years. After that, the remaining trust assets will be given to Cedarville University.

Mr. Kayser remarked, "The charitable remainder unitrust was the correct answer for all of our needs. It helped us achieve all of our estate planning goals. Cedarville University handled the entire transaction for us. It is my desire that more people would learn about the benefits of a charitable remainder trust and consider making a gift of this type".