Maximize your philanthropic goals
Keep us thriving with your planned gift

Take advantage of numerous tax and financial benefits

Leave a legacy to be remembered by future generations

Bequest to Help Cedarville Students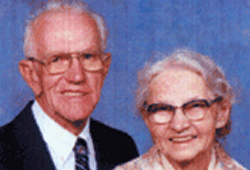 Edith Wigal Clark graduated from Cedarville College in 1929 and served as a teacher for more than 35 years. In 1937, she married the love of her life, David Clark. David and Edith celebrated 57 years together before her death in 1994.

David and Edith were known as generous and humble individuals. They were quick in seizing opportunities to help their neighbors. Even while grieving his wife's passing, David thought of others-specifically, the students of Cedarville University. As a memorial to his beloved wife, he established the David H. and Edith W. Clark Scholarship.

David knew that Edith would approve of assisting students from her alma mater. He knew that he was providing a significant financial resource for many deserving Cedarville students. What he may not have known is that he was also providing an example of faithfulness to the entire student body--faithfulness that would be reflected back to him in the final days of his life.

Cedarville students are involved with a number of ministries in the Cedarville community. One of these ministries is to patients of Greene Memorial Hospital. One of these patients was David Clark. During a visit to the hospital in 2001, a group of students happened upon a friendly gentleman by the name of "Mr. Clark." They enjoyed spending time with him and looked forward to visiting him again. Therefore, they were shocked by an announcement in chapel a few days later that David Clark, a generous scholarships donor, had passed away. These students were so touched by their brief interaction with Mr. Clark, they wrote the following to Dr. Paul Dixon, then president of Cedarville University:

"We met him last week during our community ministry. After the girls told him we were from Cedarville, he lit up like a light bulb. He was very friendly with all of us and wanted to know about us individually. As Dr. Dixon told us this morning [in chapel], he and his wife spent their lives investing and working to help students they didn't even know. They did not ask for special ceremonies or public recognition of their generosity. They just lived quietly and quietly passed away into eternity with lives well lived for the Lord. I envy Mr. Clark for having such a fulfilled life and now being in the presence of his Lord, hearing God say, "Well done, my good and faithful servant." I met him once for a very short time, but I thank God for the opportunity. What a testimony and example of a life well lived for things that really matter! I am encouraged and challenged to live my life for the Lord and His priorities." - Ryan Boudreau, '04

"Last Wednesday, I, along with three other Cedarville students, met Mr. Clark as we volunteered at Greene Memorial Emergency Room. At the time, we had no idea that he had so little time left on this earth. However, we really enjoyed spending time with him, encouraging him, and talking to him about Cedarville. He was very modest about his contributions to scholarships. Today, when I found out about his death, I was saddened, but I felt deeply privileged to have been able to meet him. I hope that when we told him how much we love the education we receive at Cedarville and expressed our appreciation for scholarships such as his, he was able to see at least a small glimpse of the difference his life has made to others. I feel honored to have met such a humble servant of God. Thank God for bringing people like Mr. Clark into our lives." – Julia Sullivan, '04

Before his death, David Clark guaranteed that he would continue to help Cedarville students by designating a substantial gift from his estate to The David H. and Edith W. Clark Scholarship. His bequest has increased the ministry of their endowed scholarship four-fold. Ever year, this scholarship helps 25 students, like Ryan and Julia, realize their educational aspirations. The Clarks created an on-going financial resource for Cedarville students through their estate. Moreover, they provided an example of faithful stewardship that will encourage young Christians for generations to come.

You also may want to make it easy and convenient to have a bequest included in your will. The language below shows how a bequest can very easily be included in your will.

You might find it helpful to select the "print" button below and print this page. Please feel free to give this information to your attorney. If he or she has any questions, please have them contact Trixie Dobney at phone number 937-766-3219 or 1-888-CEDARVILLE. Or e-mail us at giftplanning@cedarville.edu.



---
Example bequest language – Please feel free to change the numbers or percentages as you desire.

1. Bequest of cash

"I bequeath the sum of $10,000 to Cedarville University of Cedarville, OH."

2. Bequest of a percent of the estate

"I devise and bequeath 20% of the remainder and residue of property owned at my death, whether real or personal, and wherever located to Cedarville University, Cedarville, OH."

3. Contingent Bequest

"If my brother John Doe survives me, I devise and bequeath 20% of the remainder and residue of property owned at my death, whether real or personal, and wherever located to John Doe. If John Doe does not survive me, then I devise and bequeath 20% of my residuary estate, whether real or personal property and wherever located to Cedarville University, Cedarville, OH."