Maximize your philanthropic goals
Keep us thriving with your planned gift

Take advantage of numerous tax and financial benefits

Leave a legacy to be remembered by future generations

A Work of Art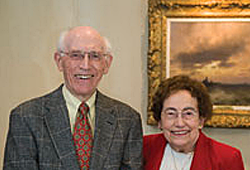 Floyd and Annie Rietveld first became connected with Cedarville in 1975. Their friend, Myron Amstutz '79, a longtime supporter of the University, encouraged the Rietvelds to join him in giving to the school. They were among the first President's Associates with their annual gifts and contributed to building projects, scholarships, and gift plans.

But Floyd always held a more personal vision for Cedarville. Long before the school had an art program, he began dreaming about an art museum on campus - a place with the proper setting, lighting, and security to allow traveling exhibits to come and display great works of art. Floyd often made trips to Chicago just so he could sit for hours studying a famous painting, and he hoped one day Cedarville students could have a place on campus to do the same. So, Floyd and Annie began tailoring their investments to bring fine art to Cedarville.

In the early 1980s, Floyd participated on a committee responsible for funding, researching, and purchasing fine art for the University. Primarily by 19th-century American artists, the paintings were beautiful additions to the campus, as well as long-term investments, when they began increasing in value.

Then, in 1982, Floyd and Annie broadened the scope of their giving by establishing a scholarship fund for students. Because the University did not yet have an art program, the Rietveld Fine Arts Award assisted students in the music department for more than 20 years. By the late 1990s, Cedarville had sufficient interest and funding to offer courses toward an art minor. The graphic design major was launched in 2003, followed by the studio art major in 2005. No one in the Cedarville family was more pleased than Floyd Rietveld.

Floyd finds immense satisfaction in sharing his time, talent, and treasure in ways that will forever influence students' lives. After all these years, Cedarville has become like a family, and the students who benefit from the couple's gifts are like their own children.

That's why Floyd continues dreaming for Cedarville. "This Dutchman doesn't give up," he said. "One day, there will be a museum at Cedarville. Maybe not in my time, but I'm happy to work with the University to accomplish that goal. One way or another, this part of my life will continue."

Read more of the Rietveld's story in the upcoming Inspire!